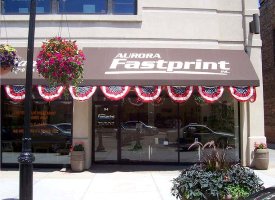 We love to visit with our friends and customers!
We are conveniently located just east of the Paramount Theatre, before Broadway Ave (Rt. 25) and right next to United Way of Fox Valley.
Ask about our LOADING ZONE for convenient pick up and drop off, right outside our front door.
To find out more about parking options and things to do downtown while you're here, please visit: www.auroradowntown.org
54 E Galena Blvd.
Aurora, IL 60505

Phone (630) 896-5980
Fax (630) 896-5989
E-mail tom@aurorafastprint.com
Monday thru Friday
8:00 a.m. to 5:00 p.m.
CLOSED
Sat. and Sun.